Packsaddle Cave
Sequoia National Forest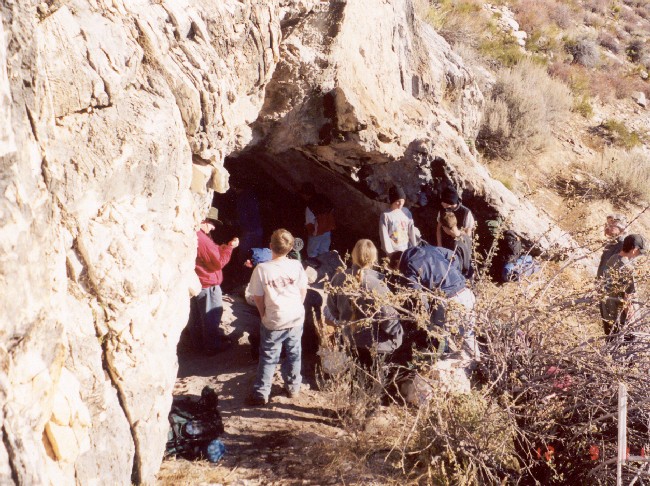 Highlights: The hike to Packsaddle Cave is a moderate backpack of 2½ miles (one-way) that leads to a limestone cave high on a hillside. The cave is dry, but remants of large stalactites and stalagmites remain as well as a couple of passages to explore. A winter backpack to the cave, with a night spent inside safe and secure from the winter weather, makes unique experience.
Directions: The drive takes about 1½ hours from Bakersfield.
Head up 178 to Lake Isabella and take the Kernville exit.
Follow the road up to Kernville and turn left on the road to Johnsondale just after crossing the river bridge on the far side of town.
Head 16 miles out of Kernville to Fairview Camp and park in the paved lot just past the camp entrance.
The trailhead is on the opposite (east) side of the road.
Trailhead: The trail to the cave starts on other side of the road from the Fairview Camp parking lot. Head steeply up the hill to a saddle, then down a moderate grade for 3/4 mile to Packsaddle Creek. Cross the creek and head upstream in the small canyon to a junction at 2 miles. Take the left fork which swings back left above the approach trail and climbs steeply up the hillside for about 300 yards to the cave entrance which is visible about halfway up the limestone ridge that dominates the skyline to the south.
Maps: Fairview 7½-minute topographic quadrangle
Cautions:
Giardia is a concern and a water purifier is needed at Packsaddle Creek, the only water source.
Remember to bring flashlights for the cave.
Please do not use any part of the cave as a restroom (do it outside somewhere) and pack out all of your trash.
More Attractions:
Just pass the trail junction at 2 miles is a T-intersection. The right-hand fork leads 2½ miles to where the trail crosses Salmon Creek. About 1/2 mile up the creek is Salmon Creek Falls.